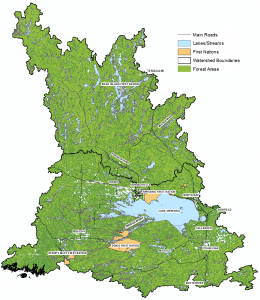 Lake Nipissing is one of the five largest lakes in the province Ontario (excluding the Great Lakes) and is located between the Ottawa River and Georgian Bay. Along its shores are many stakeholders, including residents, multiple municipalities, First Nations, and tourist resorts that rely on its resources. Lake Nipissing has an abundance of fish populations, the most popular being Walleye, making Nipissing one of the most heavily fished inland lakes in the province of Ontario.
This website is currently and will be continuously under construction in order to keep those interested up to date with the process of building this State of the Basin report. Our apologies for any broken links, moved pages, or missing information.
---
Bassin Hydrographique du Lac Nipissing
Le lac Nipissing est un des cinq plus grands lacs en Ontario (sans inclure les Grands Lacs) et est situé entre la rivière des Outaouais et la baie Georgienne. On retrouve plusieurs parties prenantes le long de la rive, sois résidents, plusieurs municipalités, Premières Nations, et lieux de séjour pour touristes, qui dépendent sur ses ressources.  Le lac Nipissing a une abondance de poisson, le plus populaire soyant le doré, faisant Nipissing un des lacs intérieurs le plus pêché en Ontario.
Ce site web est présentement et continuellement sous construction pour garder ceux intéressés à date avec le procès de construire ce rapport sur l'État du Bassin. Veuillez nous excuser s'il y a des liens brisés, pages déplacées, ou information manquante.